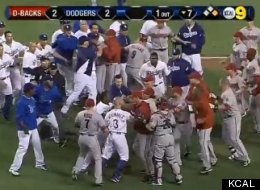 A brawl erupted between the Dodgers and the Diamondbacks on Tuesday night that was notable both for its ferocity as well as for the names of the
former
MLB All-Stars who were involved.
The bench-clearing donnybrook got underway in the seventh inning at Dodger Stadium after Arizona pitcher Ian Kennedy plunked his L.A. counterpart, Zack Greinke, up near his helmet. The Dodgers' pitcher, who fractured his collarbone in a brawl with the Padres earlier this season, was the third player hit in the tense NL West tilt. That 92-mph fastball at Greinke's head proved to be the final straw.
Home plate umpire Clint Fagan immediately ejected Kennedy, who began walking off the mound as Greinke shook off the impact. Before the D-backs pitcher even crossed the first-base line, he was swallowed up by a crowd of players who had come charging out of both dugouts. Prominent among those involved in the chaos was L.A. manager Don Mattingly, who appeared to toss Arizona bench coach Alan Trammell to the ground.
GIF: Mattingly tosses Trammell
Mattingly and Trammell weren't the only 1980s All-Stars embroiled in the ugly scene. Dodgers hitting coach Mark McGwire and Diamondbacks manager Kirk Gibson could also be seen hollering and grappling in the scrum. Presumably, they weren't talking about the 1989 World Series.
PHOTO: McGwire vs. Gibson An inning before Kennedy hit Greinke, the 29-year-old Dodgers right-hander had popped Diamondbacks catcher Miguel Montero with a pitch. Greinke had seemingly hit Montero in retaliation for Kennedy hitting Dodgers phenom Yasiel Puig in the sixth. By the time that Kennedy was tossed in the seventh, emotions ranged from anger to fury.
"No use calling out names, they're all there," Dodgers announce Vin Scully said with calm that belied the frenzied action on the field.
WATCH VIDEO ABOVE
Dodgers reliever Ronald Belisario was among the pitchers who came rushing in from the bullpens and was involved in one of the uglier sections of the discord. As Belisario wildly threw punches, a knot of players from both sides nearly spilled into the camera well near the visitors' dugout. Diamondbacks coach Hunter Ward nearly got tossed over the railing before Montero came to his aid.
GIF: Brawl gets ugly near camera well
Kennedy, McGwire, Gibson, Ward, Belisario and Puig were ejected, according to MLB.com.
After play resumed with the score level 2-2, the Dodgers went ahead for good in the bottom of the eighth with a three-run double by rookie Tim Federowicz. Reliever Kenley Jansen picked up the save in the 5-3 win.
"That's just baseball," Gibson said after the game, via the Diamondbacks' official twitter account. "We got a game tomorrow. We'll regroup."